Today, on "Writing Challenge on Jo's Blog", we'll make this dialogue short and sweet.

The Mission: Write a dialogue-only piece with the theme Starlight and an acoustic guitar and You just don't get it.

The Added Challenge: Let's see if I can write this in 15 minutes.


#


Cradled Cats and Tarnished Spoons


"Here it is, sweetheart, the beauty herself."

"Wow."

"Say, where did you find out about the Starlight? This was recommendation-only."

"My father was in the music industry."

"A comrade, then?"

"Sort of."

"Perhaps I've heard of him?"

"Perhaps."

"Alright then, tell you what, I'll take five hundred off the asking price, and throw in the trimming kit for free."

"For the strings?"

"The wood. 25 years old and still growing, you'd think the trimming will have you give up this work of art quickly but once you hear her sing, you'll know it's all worth it."

"Sounds like something you'd do for your kids."

"Pah! Never had the time nor the style to have them."

"You never had kids?"

"Them screaming buggers who have no appreciation for anything but to ask you for money? Not my thing."

"I see."

"If you want, you can hold on to it while I get you the case."

"That wouldn't be necessary."

"Huh? You kids need to take care of these things!"

"You still don't recognize me?"

"What the..."

"So this was what took you away from us. This should be easy."

"What? N...!"

"...and the cat's in the cradle and a silver spoon... Silver spoon? As if."


#


And with three minutes to spare! Thanks for reading guys, tuned in for next month's writing challenge!

Powered by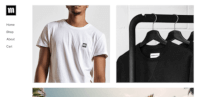 Create your own unique website with customizable templates.