Two weekends, one festival market, and a major cough after, I've managed to muster up some energy to get this post down. LOL.

At the beginning of this month, the Rolling Ronins, together with AK, took our first trip as a group to Jakarta, Indonesia, to attend PopCon Asia 2017. It was meant to be a quick trip – only there for the event and then back home again. Despite that, we still had quite a few story-worthy moments to share.

HEART ATTACK PASTRY
​
I think Indonesian food, I think Bakar (barbecue), Mie Bakso, IndoMie, and Martabak. While we got our fair share of Indonesian noodles and rice, the one that blew our minds (and possibly arteries) was the Martabak.



We can only get proper, Indonesian-style Martabak at J Town, in Emerald Point (At least, that's the only place I know), and they're almost always sold out by the time we reach. From what we know, Martabak is a pancake cooked on a high-sided griddle before it's filled with decadent fillings (usually cheese, chocolate, peanut butter, or a combination of the three). After it's cooked, it's slathered with butter, cut into portions, and then served.

​When we had our first Martabak in Indonesia, we were introduced to Martabak Asin a.k.a. the Savoury Martabak.

I believe Jerry's words were, "Can we just skip PopCon and just keep eating?"

While sweet Martabak continues to dominate the menus, savoury Martabak was a revelation – meats and herbs fill the pancake while it's wrapped in a thin layer of pastry, fried in a generous amount of oil, and then topped with sauce and cheese.

So keep your hand wipes within reach and your stomach empty. Martabak is life.

​

We went to two places:

Martabak Gokil

– BELLAGIO MALL | Kav. E4, Jl. Mega Kuningan Barat No. 3, RT. 5/ RW. 2, Kuningan Tim., Kecamatan Setiabudi, Kota Jakarta Selatan, Daerah Khusus Ibukota Jakarta, 15810, Indonesia


​Martabak San Fransisco – Jalan Burangang No. 42, Pujasera San Francisco, Burangang, Lengkong, Kota Bandung, Jawa Barat 40111, Indonesia


Note that Martabak San Fransisco is a delivery / takeout-only establishment, so be prepared. Savoury Martabak is also prioritized for their delivery customers and usually run out if you try to order it via takeout instead.

THE FALAFEL INCIDENT

As you can gather, most of our travel stories revolve around food. This one was a sliver of humour during a rather late dinner.

​After lunch on our second day, a friend of Anna's recommended Halal Guys. Knowing their reputation as a New York Street Food establishment, we were game. Unfortunately, some of us had to split from the group so dinner at Halal Guys only had myself, the Tiger, Ben, Alfonsus, and AK.

​


​I ordered a Chicken Platter while the guys mostly ordered platters with hummus. Ben got a Falafel sandwich, while AK had an extra order of Falafel. And the Falafel came freshly fried.



AND IT WAS GOOD. AK was kind enough to share one (of his two) falafel with the rest of us.

That started Alf going through the best possible permutations of what to order back home for supper. Unfortunately, he took so long deliberating that by the time he got up to order more falafel to take home of the day, they were out.

Cue the dramatic widening of AK's eyes as his gaze darted from the final piece of falafel on the table and back to Alf.

Spoiler alert: AK ended up splitting that falafel with the rest of us again because he hungry-ordered his meal. (He had a mixed rice platter with an added side of hummus and flat bread on top of the falafel)

If anyone in Singapore wants to bring Halal Guys to the country – I will gladly support you. And by support, I mean go to your outlet and eat all your Falafel.

The Halal Guys are at SENAYAN CITY, Jalan Asia Afrika Lot. 19, Gelora, Tanah Abang, Jakarta Pusat, Daerah Khusus Ibukota Jakarta, 12190, Indonesia.

POPCON ASIA 2017

And of course, the event we were gunning for.


​This was our first time in PopCon, and first time in Jakarta for some of us as well. Needless to say, it was quite an experience.

Firstly, our booths had a backing board – similar to those at STGCC, but very different from the booths we were used to in Comic Fiesta and CAFKL.

Secondly, LINE WebToons has a huge following in Indonesia, where readers can access and read indie comics for free. Many browses ended in, "Are you on WebToons?" Plus, the long line outside the LINE WebToon booth spoke for itself.

​

Regardless, we had quite a fun time – especially since our booths were right next to the stage. It got loud during programmes, but that also meant that our area was bustling. At the same time, it made us easier to spot – many thanks to Stephani & Royce, Wina (Veleries), Azisa, and many other people (the guys from GnB) for coming down to support us! As well as a special shout-out to ToysREvil for signal boosting our booth on

his blog

.

​Snippet: Here's Jerry representing us during one of their Doodle Battles on Saturday!

To find out more about PopCon Asia, click

here

.

So that was our trip to Jakarta! In between the food and the malls, we will probably be seeing this city again. Until next time!
Powered by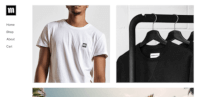 Create your own unique website with customizable templates.