Most people who know me will say that I'm a very competitive person. While I've been trying to tone down on this, there's also something good about the drive you get that typically comes from someone who sees everything as a competition. And that was for me to channel this energy to compete with who I was a year ago.

2017 came with many highlights - speaking at All In! Young Writers' Festival, launch Pulp Toast #3, being in the Best New Singaporean Short Stories, and going to Jakarta and PopCon for the first time with the Ronins. Suffice to say, I had a very eventful year.

​MY BEST MOMENTS OF THIS YEAR:

#BUYSINGLIT, ALL IN! YOUNG WRITERS' FESTIVAL, AND THE SINGAPORE WRITERS FESTIVAL 2017

Literary-wise, I couldn't really have asked for more - I got to booth at a literary market, speak at a panel, give a workshop, listening to the legendary Junot Diaz, Ken Liu, and JY Yang, and even meet Marie Lu. On top of that (and not pictured), the many other launches I went for in between (J's launch of "The Red Threads of Fortune" and "The Black Tides of Heaven", Best New Singaporean Short Stories Vol. 3 etc...) were just encouraging and inspiring.

POPCON ASIA, ILLUSTRATION ARTS FESTIVAL, AND COMIC FIESTA 2017

Boothing didn't just stop at the #BuySingLit Festival. We also had fun as the Rolling Ronins at the Illustration Arts Festival, Comic Fiesta, and our first stint at PopCon Asia in Jakarta, Indonesia. Loads of fun and eating, loads of talking, people falling sick after, will do it again.

PULP TOAST / ROTI BAKAR

There's a lot of talk about when you want to talk about Pulp Toast / Roti Bakar. But instead, I'm just going to leave this collection of pictures here to remind myself that if you keep at something you love doing, together with a group of people who are as committed as you are, you will see results.

#LONGBKKEND & FEED ME-NANG 2017

From a fulfilled promise to possibly the shortest itinerary I've ever seen, this year's travel bug caught on and caught on good. Apart from that, I cannot have a great year without great friends, food, and amazing destinations - Bangkok (after 16 years), and Penang (because, you know, we were hungry). Many thanks and kudos to Lyn for her travel planning prowess as well!

So as I enter a year where the first digit of my age is going to change, I'd like to increase my focus and get to improving my current skills and make time for the things that are the most important to me.

First in this year's endeavour, I hope to finish and pitch my novel (finally) and get to work to finishing a fictional podcast I've been researching and working on since last year. Pulp Toast #4 will definitely come out, but I'll be taking a more managerial role with it. You can also expect a bit more from the Ronins this year as well - now that we kind of have a general direction of where we'd like to go.

Second, I'm hoping to spend more time with the Tiger, my friends, and my family - something which, somehow, hasn't been happening too much even though I've been working from home.

And finally, I'd like to take some time to engage in personal development - things which I've said I wanted to learn but ended up not doing because of time or just plain tired laziness. That being said, I've a list to cross for this, so here's to learning as much as I can!


So that'll be me for this year. Moving onwards to the big 3-0, and many other experiences!
Powered by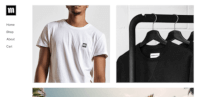 Create your own unique website with customizable templates.