If there was one thing 2016 taught me, it was to not overestimate the limits of humanity. To say that 2016 was like a steamroller going over our half-buried bodies an inch at a time can be an understatement. What with all the nonsense happening on a global, regional, and personal scale, many of us (myself included) just can't wait to give 2016 the finger and move on with our lives.

However, to say that 2016 was nothing to remember would be wrong, at least on a personal level.

HEAT / FLESH / TRASH, a trilogy of urban fiction anthologies, launched during the London Book Fair in April 2016. Thanks to the editors of the books and Buku Fixi, we had year-long launches around the world – the United Kingdom, the Philippines, Malaysia, and definitely, right here in Singapore. While I got to read "9 Lives" (my story in FLESH) in Kinokuniya, I was happy to contribute to the growth of pulp and urban fiction in this part of the world.

Staying on my creative bandwagon, I've been blessed with a great team in the Pulp Toast Core and we managed to put out Pulp Toast / Roti Bakar #2: Beyond the Page, as our second instalment to the genre fiction zine we started last year. On top of that, I'm incredibly grateful to the team behind Illustrators' Arts Festival and the Singapore Writers' Festival craft market for being the first sales platforms for this issue.

That being said, the feedback for Pulp Toast so far have been nothing such of amazing, and I thank all of you for your support! It definitely gives us that extra push to write better, more adventurous stories.

So I've met new people, spoke to more storytellers, and got into something exciting for next year. While the gang and I work out the kinks, stay tuned for more news on this collaborative we're working on!

Creative pursuits aside, I'd say the greatest highlight of my year was probably my first trip to Japan with Lyn, Sarah, and of course, the Tiger. Having only been to Japan via the Tiger, I was excited to finally see this land for myself.

In a line, I underestimated the magic that is Japan.

What regular visitors to Japan say is true – You never get over the hangover that comes when you board the plane leaving the land of the rising sun.

Tokyo fulfilled this image of an efficient, clean, stationery haven with DisneySEA – the city was crowded yet you were able to see so many characters, and the food was to die for.

Nara gave us a story for the years to come – we didn't expect deer to fight us to the teeth for our maps or that we'd get to see people make fresh, traditional mochi.

Kobe gave us deliciousness for days, laughs for weeks, memories for months, and hunger (for amazing Kobe beef) for years.

And Osaka was just the right balance of the metropolitan, the cultural, the trashy, the classy, the weird, and everything in between. In a sense, Osaka was probably my favourite during the trip and I wished we spent more time there.

Regardless, I know that I've found a new favourite destination.

---

That being said, 2016 was only tolerable with the support of the Tiger, the Valkyrie Knights, the gang behind all our indie pursuits, my family, and everyone else working to decrease world suck around them. If the year 2016 was a narrow road in the abyss of relentless darkness, those people were my light at the end and along the road.

And so here we are, migrated from my

old blog

and into a new phase. What next?

So first thing, I'm going to be migrating some of my greater posts here. While I'm narrowing my focus to tell stories across various mediums, some posts from the old site feel suited for this place. Therefore, there'll be a few familiar-looking posts if you're here via the old blog.

Secondly, stay tuned for more news on our collaborative. Some of us will be trying out a few things until we can settle down properly before we go all out.

Above all, the one thing 2016 told me to do in this weird, beautiful community we live in, is to face the new year with the strength of a thousand linked arms in the middle of this roller derby rink.

​

Come at me, 2017. I'm ready. And so are the rest of us.
Powered by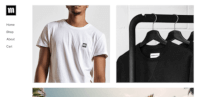 Create your own unique website with customizable templates.