Hope you enjoyed the story I did for the writing challenge last month. This month, I'll be trying to dive into poetry (again). Here's something I came up with with the prompts: Memories, and The Reason It Isn't There (~50 lines).

#

​

My Answers to your Questions

​I never see you,
Yet your questions are legion.
You sit, satisfied,
Stomach filled with the free
Food that you can always cook
Better, you know best, anyway.

After all, what is rice,
When it's salt that is needed?
After all, what is wisdom,
When it's status that's all important?

Years past, three hundred and sixty-five
At a time, a cycle we continue
Out of ritual, out of tradition,
A moment in the sea
Of ties forged and old wombs.

And you ask, smirking.
While I answer, a telepathic
Wave at the front
Your face, but one you will
Never feel.

Blood of brotherhood
Thicker, than
Water of the Womb.

So in your effort,
Filling your gossip
Rolodex of noise…

Your questions,
My answers,
Are these…

"What are you doing now?"
"Something I care about."

"Why not <this>? There's no money in…"
"And obviously, you don't."

"What have you been eating?!"
"Food. What have you not?"

"Why did your mother let you get this fat?"
"Why did yours let you get this rude?"

"Your partner is not your type!"
"Clearly, they're not yours either."

"When is it your turn?"
"After you're done with the snacks, thanks."

"Why do you care so much?
Those people are not your family."
"As are your intentions,
Those, not out of integrity and concern."

"Can't I just ask questions?!"

You could,
I'll answer.
But if you cared,
I'll answer proper.

​Joelyn Alexandra


#

I hope you've enjoyed this piece, and stay tuned for more pieces from writing challenges in the upcoming months!
Powered by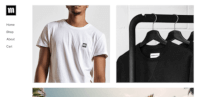 Create your own unique website with customizable templates.