Title:

Within the Wires

Writers:

Jeffrey Cranor and Janina Matthewson

Producers:

Night Vale Presents

There are some podcasts that are meant to keep you on the edge of your seat. This one, strangely, lets you sink into your seat while keeping your brain occupied – waiting for the next instruction to embrace your subconscious.

Produced by Welcome to Night Vale producer Jeffrey Cranor and Janina Matthewson, Within the Wires is a 10-episode podcast series resembling those therapy tape serials you use you train your subconscious. And it's one of my new favourite podcasts to listen to.

Strangely, I found out about it while listening to Alice Isn't Dead, another production from Night Vale Presents. Curious, I listened to the teaser podcast and was immediately hooked.

The podcast presents like a series of therapy / treatment tapes not unlike those tapes people listened to while they were going to sleep to help them quit smoking. Speaking to us, a supposed patient in a mental facility, each podcast disguises its story plot amid relaxation exercises narrated over a background soundtrack of waves on the beach.

Each episode is also broken into two digestible sections. Woven in the relaxation exercises for different parts of the body, the true plot was incredibly satisfying to find as each episode progressed. The second-person narration established at the start of the podcast brings us in, fully-intending to immerse us in the world both Cranor and Matthewson created.

So if you're looking for a fictional podcast to immerse into, perhaps try some of these tapes?

​

To listen to Within the Wires, click

here

(I usually use Libsyn but Night Vale Presents's main website has more options). To find out more about Within the Wires or find out more about Night Vale Presents's other podcasts, click

here

.
Powered by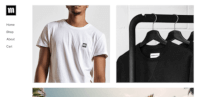 Create your own unique website with customizable templates.