Title:

On Making Madeleines

Author:

Wena Poon

Publisher:

Sutajio Wena

I make it no secret that I'm a fan of Wena Poon's works. Last Singapore Writers' Festival, she gave some of us a copy of her latest book, "On Making Madeleines". Needless to say, I was intrigued.

In summary, the story speaks about Wena's process while baking the French classic, with all her distractions and thoughts interjecting between the steps. When I spoke to her about it, she said it started as a recipe and process for her mother-in-law and the more she wrote, the more she realised its potential as a short story.

"The thing about baking French things like madeleines is that you can't rush them."

The literal first line of the book sets the scene. Each step closer to those delicate pastries brought new jests and "distractions" that we can all point and go, "Ayyy" at. (Especially the point she made about having the TV playing in the background while you potter about in the kitchen)

Once again, her writing continues to entertain. This piece is quick to get through, with snippets of conversations (between herself and her husband), musings, and whatever happened to go on around her in the middle of baking injected between the steps. One of my favourite parts had to be these lines:

"Don't overmix and push all the air out of the eggs. You want the madeleines to be fluffy. Julia Child said once that it is preferable to have unmixed bits, than to overmix and deflate the batter. Julia Child lies. If you have unmixed bits, they will bake and taste exactly that – unmixed. You just have to learn how to fold and mix evenly without letting all the air out. If you don't know how, it takes practice, don't worry God help you."

You read

On Making Madeleines

to be entertained. You read it to laugh and nod at how baking is not as many cookbooks say it is. You read it to have a glimpse at how something seen as an everyday task can become an adventure or a comedy sketch. And you will not be disappointed.

As a bonus, read the story all the way to the end. It's a great Easter Egg especially for cake lovers and fans of Wena's other pieces. (I was presently surprised yet again. Especially at how versatile Wena continues to be in her style of writing and storytelling) With that, I'm going to leave it to the rest of you to find out – get the book and read it with your morning coffee (and some cakes, if you're able!)

On Making Madeleines is now sold on

Amazon

. You can find out more about Wena's other works and escapades on her website

here

.
Powered by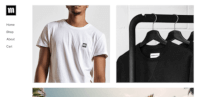 Create your own unique website with customizable templates.