Title:

Biophilia

Author:

Wena Poon

Publisher:

BookSurge Publishing

First off, please let me start by saying that I'll be migrating a few of my posts from my previous blog (WordPress) gradually. While this is an older post, I enjoy this science fiction piece by author Wena Poon until this day. So here goes.

"Note to self: never get slapped twice by a polar bear. Especially a Nagy polar bear. You may not survive the second time."


When Imogen gets transported to Nagy, she meets talking animals (Gromer, the wise overseer Polar Bear and Tristram, the common sergeant in many battles, to name a few) and learns of the parallel wars each universe is going through. Not to miss what could be the most interesting experience of her life, she ropes in Kai as they join the side of the animal allies against the Penumbra, human-like zombies bent on expanding industrialisation on Nagy.

Imogen Park, the protagonist of this series, is introduced as a rebellious, independent girl in the beginning of the book, Imogen is quick-witted and highly-adaptable – getting used to Nagy within days and being able to switch jobs without much complaint for the sake of survival. However, what many may miss out is how Imogen is quite the sentimental.

Despite seeming to give up her dream as a writer in New York City, she continues to muse with her best friend, Kai Montserrat. At the same time, she insisted on bringing Kai to Nagy, placing their friendship above all else. Their dynamic already embedded into her being, Imogen recognises the importance of Kai's presence in her life, risking missions in Nagy to ensure that this best friend of hers remains alive.

The title of the novel itself, Biophilia, speaks of the love of flora and fauna. On Earth, Imogen often voices her displeasure at how humans are attacking each other due to their own carelessness in the past. Conversely, she feels free on Nagy, which is much bigger than Earth itself, and where animals ruled with nature – the talking animals show her and each other more respect for their capabilities, despite their differences.

Earth is in constant war over resources. Nagy is in constant war over land and sea. Earth's enemies are its own people. Nagy's enemies are the Penumbra – often placed with descriptions parallel to that of humans. However, it could also be due to Imogen's crave for freedom – she was able to do most things without restriction, as compared to all the laws she had to face when she was back on Earth.

Biophilia was told in the first-person perspective of Imogen, which, like many other first-person novel, immerses the reader into the world which has been built by the author. At the same time, the flashbacks between Imogen's life on Earth before her landing in Nagy may be slightly disorientating at first, but it also reflects the complexity of the human mind, together with how easily distracted we are in this age of countless needs.

It's timeless, funny, and keeps you turning pages. And what warms my heart is the fact that Biophilia was Wena's debut into internet recognition – which launched her to the rest of her other novels.

The Biophilia series is written by Wena Poon. You can find out more about the series and her works

here

.
Powered by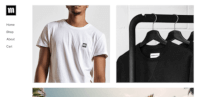 Create your own unique website with customizable templates.