When I sit down with a book by Wena, I'm sure that I'll end up with a bunch of laughs.

My first encounter with "The Adventures of Snow Fox & Sword Girl" was during a performance reading by the author, Wena Poon, herself. Intrigued, I bought the book (together with her other novels out by that time), excited by the prospect of a story rich with adventures and swordfighting.

I was not disappointed.

If there's one thing I love about Wena's writing, it's that it's bound to entertain.

The first novel of her Hoshimaruhon series (loosely translated to "The Book of the Star Ball"), Snow Fox & Sword Girl introduces us to the Jing and Noh Empires, where the masked Emperor Taliesin of Jing tries to bring the constant war between Jing and Noh to an end with the help of his bodyguard and childhood friend, Sei Shonagon - the best but also the most mysterious swordswoman in all of Jing.

It's not difficult to like Wena's storytelling, especially if you're in to know what happens next. Set up like the liberetto of an opera, each Episode represents a Chapter happening in the midst of the story's chaotic worlds (physical or spiritual). Wena combines contemporary language with mythical tales to paint a vivid landscape that serves as the background to the hilarious banter between our two main characters.

Be prepared to see the sounds of swords clashing, bells sounding, and waves crashing throughout the voyage. Laugh at (or with) the antics of the young Emperor and his reactions to his dear Sei-kun, with dialogue that wouldn't feel out of place in an Adults-only Disney Animation Party.

That being said, I'm grateful for my retained fundamental Simple Mandarin reading skills in this book. If anything, the Episode titles and their umm… "Mandarin translation" will set you up for a journey filled with laughs, smiles, tears, and most definitely, adventure.

So now, if you'd excuse me, 我正在修生, 别烦我. (Or translated on Wena's terms: Self-Cultivation).

For more information on Wena or the Hoshimaruhon, click

here

.
Powered by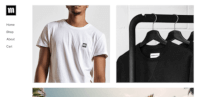 Create your own unique website with customizable templates.