I'm going to quote one of the Editors I've been working with during my day job and many others, "Where did the rest of the year go?"

Here we are, standing at the final step before entering the second half of the year and I'm really glad to say that I've found a Hobonichi Daily layout which I'm happy with for my Cousin - the same layout that I had for April, mentioned in my previous Plannerd Feature post.

For the months following, I've just shortened the amount of space I needed for each section so that I'll have more space for pieces like these:

One of the greatest gifts from the Hobonichi (Or the Cousin, in my case), would be the flexibility their daily pages give you. While I would caution you against pressing your pencils and pens too forcefully on the paper (I've torn through a couple of pages), my "Notes" section has made me a very happy planner over the last couple of months.

Future posts will most likely be a look into what I've been drawing, writing, or just scribbling from my #hobonichi365 features. So stay tuned and enjoy!
Powered by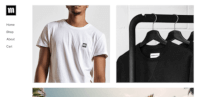 Create your own unique website with customizable templates.