​March and April saw more layout changes as my life got busier.



​Throughout those two months, life during and out of work and creating required more organization, especially with my three major projects so far.

So now, I'm experimenting with my latest layout all the way through May. Taking away the Must-Do Tasks of the day in place of a single Focus of the Day 'forced' me to concentrate on a single task. That got me to a certain realization – My excitement for all my projects have caused me to cram my days with so much, I end up crashing for a few weeks and feeling guilty after.


That being said, I'll say that this new layout helps to clear things up a little better. And I think it's quite safe to say that this shift doesn't make my to-do lists feel so overwhelming anymore.

​Check out my progress from my

January and February post

.

118 Days down, 247 Days to go for

#hobonichi365

.
Powered by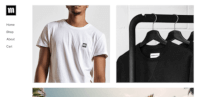 Create your own unique website with customizable templates.