I've mentioned this before – a common question we get while selling our work at fairs, conventions, or festivals is, "How did you get your work published?"

In today's market, there are options like the process of pitching endlessly to various publishers and agents, and self-publishing, among many others. And with that comes the many tools that are pushed to us every day.

I'm not going to name any specific apps, guaranteeing that they will be tools that will turn your current situation into a success story overnight. Instead, I'm going to go through some of the tools you'll need, attitude-wise, for when you decide to embark on a creative journey on your own:

ORGANIZATION

If there's one thing I hear a lot of writers and artists wish to have, it's organization. We have so many ideas in our heads, we don't know where to start. Conversely, when there's nothing going on in our creative minds, we don't know what to clean up.

Having a habit of listing unfinished work, administration, or project progress trackers can be useful in ensuring that we don't end up in the midnight oil corner, rushing out side projects at the last minute because we forgot. At least not as often as we hope.

Personally, list-making and scheduling works for me. Getting all your admin work done during your lunch break (at your day job) can make you feel lighter when you're done for the day and need whatever limited time you can get to finish up your passion projects as well. At the very fundamental level, at least have a to-do list where you list your needed tasks (it can be as general or as specific as you need it to be) and cross off whatever's done.

Some people may get a runner's high. I tend to get a to-do list completion high.

GRIT

Okay, I'm inspired by one of the books I'm reading now, "Grit: The Power of Passion and Perseverance" by Angela Duckworth. We may be quick to scoff at how "self-help" it sounds, but the notes from this book were encouraging and, above all, relatable.

Talent, passion, and skill will sell work at varying degrees. However, research has shown that time and (deliberate) practice continue to be major contributions to success.

Deliberate practice has been an area I've been exploring for a while, and it does, from the start, help with self-understanding. The fact that you have to assign a specific duration, goal, and activity for each session gives you a sense of progress.

So yes, be passionate, practice, and continue improving on your skills, but most importantly, keep at it.

COMMUNICATION

One of the most influential things said to me was by Man Asia winner Tan Twan Eng – "Go and get a job first." That was also his advice to a student who was trying to convince her father to let her go into writing full-time.

Major reasons for doing so are: 1) Stable income, 2) The professional / commercial skills that come with having a full-time job, especially if you're office-based or use technology frequently.

Gone are the days where all creators needed to worry about was just to create. We handle emails, forms, applications, grants, the lot. And if we lack the time or the energy to even answer a single email decently, we can fall behind.

Wanting to be taken seriously takes a lot of professionalism and clear communication, so one-working-day turnaround times and concise emails will need to be your friends for a while.


And there you have it! These tools have certainly helped many of my friends as they push through the independent market.

​What other qualities and tools have helped you so far? Let me know in the comments!

Powered by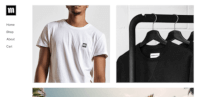 Create your own unique website with customizable templates.