Last year, I did a few posts under this section called "How-I-Dos", which talked about getting organized and gave readers a glimpse into what is expected of us as creators, especially independent creators, in the industry, the community, and at events. The more I delved into this topic of Arts Management, however, the more I realized there's a lot to cover.

Therefore, I've decided to combine a few good pointers I've gathered over the past half a decade or so in the industry and interview a few fellow storytellers in a series I would call, "The Stages of Creation".

This series will cover tips and advice from the concept to the delivery of your story and its medium, taking us all one step at a time. I won't be presumptuous to say that I know everything, but I'll do my best to give all of you a different perspective when it comes to creating and managing what we create, as well as ourselves.

I decided to start with the concept instead of diving straight into "Getting Started" because this is, perhaps, one of the biggest stumbling blocks many storytellers face.

"But I want to say so many things! The more I write, the more I tell, the more I realize I need this and this and this!"

Sound familiar?

So here are some pointers I gathered - tips I used to get myself moving:

Your Intentions

Firstly, have some idea of what you want to do. Are you:

Writing a story

Composing a song

Crafting a script

Secondly, ask yourself why. It doesn't have to be some lofty idea or some "save-the-world" mission. Why are you creating or telling this story?:

For fun?

Because you like it?

Curiosity?

To bring forth a message?

And thirdly, remember - the most important aspect of the story, is the story. Like a birthday cake, embellishments won't save a badly-baked, dry sponge cake. So know the story you want to tell, or at least, be okay with going where your story wants to go, at least for now.

*Quick Tip: If you continue to be plagued by ideas, with no opportunity to plant your feet and anchor, maybe you can ask yourself these three questions with regards to your story: 1) What does your character want? 2) Why can't they have it? and 3) Why should we care?

Before I leave you to the next section, though, know that half the time, authorial intent doesn't really matter. Unless people read your work with the intention of extracting a message or with a critical mind, set on dissecting and analyzing your work, it's safe to say that most read, watch, or listen for a good story.

Committing to Paper

Now that you're done with your plans, it's time to commit your story to paper. Personally, I use events like the 24-Hour Comics Day, National Novel Writing Month (Nanowrimo), and Camp Nanowrimo to get myself started on my first draft, but here are other techniques some of us use to get started.

Blank Paper Method

True to its name, it's just setting a timer and on a blank piece of paper, writing down every idea, character, and their relationships with each other. After which, you look at what you have and try to put the pieces together - pretty straightforward. Remember, a messy canvas is easier to edit than an empty one.

Research

One of the lessons I've learnt with researching for your story - it's usually not what you think it is. As fun as research is, you run the risk of having confirmation bias when you're not careful. While research allows you to read about or even experience the fun settings and adventures your characters go through, having it reach its full potential requires acute observation, deliberate listening, and then deduction after that. So do be careful if you like to do your "research" thoroughly first before starting on anything.

Rewriting & Reading

To paraphrase Stephen King, if you're not reading, you're not writing. I wouldn't say "read more" is my one and only advice for writing better, but reading for fun is an important aspect of storytelling. And one of the advantages of "rewriting" or fan fiction, is that there's no pressure to create something entirely new. You want a trigger or practice right? Why not try getting into an existing story and seeing how you can create your own take on it?

All of that being said, the most important thing to do when you want to create, is to create. So instead of talking about writing, drawing, or storytelling, know that your work will only exist after you put your pen to paper and start creating.

P/S - We'll talk about creating the best work you can in the later posts. For now, just put pen to paper.

#

I don't deny that I still stumble and find myself at a huge roadblock when it comes to creating something, especially a brand new project. However, I would say that the above steps have helped rather well. You can also check out how other storytellers get started on their projects with these other posts:

I look forward to seeing your creations.
Powered by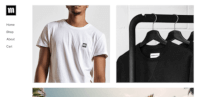 Create your own unique website with customizable templates.