Now that your work is nicely laid out, you've checked your bleed borders, and your specifications are checked and ready to go, your next logical step would be to source for a production house. In our current case (as indie writers and comic artists), it'll be to look for a printer.

If you haven't got a clue or finished your pre-printing checks, however, I'd suggest you read

my previous post in this series

just to get a feel of what you'll need to take note of before sending your work to print.

When you source printers for your work, there are more aspects to think about besides price. Here are some areas to look out for:

Printing Services & Their Clients


What are you printing? Postcards? Prints? Comics? Zines? Different printers have different services or specializations – make sure that the printer provides services you require.

At the same time, it'll be a good idea to check out their clients. Better still, their address. For indie creators, a print shop in the middle of a mall or an accessible shopping area is good enough.

When you find printers who are in the middle of an industrial estate, or have loads of clients who deal with journals or magazines, chances are, they'll be way out of your budget.

Quotations & Accessibility


Some printers have the option to get a sample quote on their website – you just key in your project specifications and they give you an estimate price. For many others, you'll either have to go to the print shop personally or send them an email to ask.

When you get your quotes though, it'll help if you can take note of the following:

Overall price and price per page – compare this with your budget.
Specifications – some printers like to recommend services with their quotations. What's important is that you make your specifications clear in the final quote.
The fine print – are there any terms and conditions with the quotes and print job recommended to you? Make it clear and understand what you're getting into.

Note: Be prudent with your budget and manage your expectations if it's your first time with a printer. There will be some level of error or defects with at least a few copies during some point of your requested job – be prepared for that and don't go into a fit when there's an error with a few copies, nothing is perfect all the time.

Delivery


If you're printing locally, this won't be as huge a consideration for you. However, do keep this in mind – the faster you need your prints, the higher the costs may be.

If you're printing your goods overseas, however, there might be a few things to consider:

Always check the additional delivery costs before you make a decision – book delivery via truck from Malaysia to Singapore can add another RM200+ (~SGD70) to your bill.
If you're shipping goods in via sea, make sure you check the paperwork needed for shipping and clearance – some printers have different prices from printer to door, and from printer to port.

Again, if you're not sure, ask.

How We Usually Find Printers:


A good number of us found our printers via word-of-mouth. If you have friends who have been making zines or indie books for a while, you may want to ask about their printer contacts (nicely, of course). In Singapore, Peace Centre and Sunshine Plaza have a hotbed of printers, so you may want to have a look there.

P / S – I tend to go to Peace Centre's Leadership Printers at Peace Centre and Dezain Print at Sunshine Plaza.

​

Are there any good printers in Asia you'd like to recommend? We'd like to hear from you in the comments!
Powered by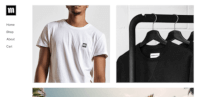 Create your own unique website with customizable templates.