​A common question we've been getting during our events is this:


"How did you get your book published?"​

​The easy answer is this:


You write / draw, you format and convert to PDF, then, you print.

The more complicated answer happens in stages. This post talks about the first stage that comes to play right after you've laid your work out.

If you have some basic knowledge on how to lay your work out and have it converted to PDF, that's good. To make your printing process a little smoother, here are a few questions to answer:

Are your pages even-working?

​Even-working means your content fits into a number of pages which can be divisible by 2 or 4.

Most printers will come back to you if your pages are not divisible by 2 or 4 – check this specification with them. Printers tend to fold / print pages on larger pieces of paper, which results in 1 sheet of paper taking about 4 pages of content or more.

Bleed – what is that?

Not paper cuts.

Bleed is a term used to describe the overflow of your page design over your page borders to make up for any minute, measurement-related errors in cutting. So if your page edges are white and you're printing on white paper anyway, there's no need to worry. For cases where your work is on a black background, make sure you give a bleed of black around your borders so you don't get that line of white paper in case the cutting is off by half a millimetre.

What size do you want your work to be presented in? A5? A4? B5?

Most places take A5, A4, and A3 quite easily. Any odd sizes may result in more expensive printing because of any expenses going to creating a custom die cut.

Grayscale or Colour?

The most common we've seen are black and white interior / content, with colour covers. Remember to check the colour policies with different printers – most of them won't entertain "discounts" even if you just have a single line in colour. Colour is colour.

What kind of paper would you like to use?

Very much like colour vs. black and white, different papers bring out different textures and prices. What's important is to know how you'd like your work to be present in the best but most economical way. (E.g. I know Vellum is amazing, but a 50-page Vellum book of poetry probably needs to be priced high in order to make your cost back)

Saddle-stitch or Perfect bind?

Unless you have the time / energy to print everything on a large sheet of paper, cut, and sew your books together one-by-one, printers will ask you to choose from a variety of bindings. Do note, though, that in most places, perfect bind (glue) can only be done if you exceed 100 pages.

How many copies?

Be mindful about this – have a good gauge of how much you intend to give away and sell. Consider your storage solutions as well – storing 100 books in your room is no joke. We'll talk about logistics in another post.


That being said, we'll talk about sourcing printers in our next post. I hope this post has given you some pointers with what to prepare before going for a print job.

Do you have other factors you look out for before you send your work to print? Share it with us in the comments!

Powered by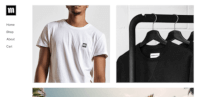 Create your own unique website with customizable templates.