Now that you've set your work to the correct specifications and sent your work to print, what's next? Logistical processes get so little credit but they are so important in the long run. Together with a few of my other boothing friends, we've come up with a few tips on what else to consider once your products are ready.

Storage


If you're printing more than 50 books, you'll need to consider how you'll store your products. Non-book products have their considerations as well. Here's what I learnt from other artists:

Books

After checking a few copies, keep your books back in the box
Keep the boxes either on the bottom shelf or on the floor, in a visible area that doesn't obstruct others
If you have a lot of books and are working with a collaborator, split your load or pool some money to rent a storage space (I don't recommend the latter unless you have more than 500 books).

Posters, Postcards, & Prints

Keep them in their plastic slips and away from light
Ensure they're lying on a flat surface
For postcards and prints, I know it's really tempting to use rubber bands and clips to hold them together, but prolonged storage can result in imprints and rust, so I'd say go with either wrapping or plastic slips
If you only have a few copies left, keep them in their plastic slips and in a poster tube

Badges, Keyrings, & Acrylic Accessories

Similar to other accessories, keep them in their plastic bags
Avoid keeping them in tight spaces

Packaging


For a majority of my boothing experience, I didn't think about packaging, especially since I was only selling books. However, as conventions and events continue to get more footfall, packaging becomes increasingly important – not just its appearance but its preparation as well. Here are a few tips:

If you can, buy in bulk. The party shops next to Bugis+ (Singapore) can give you pretty good deals on plastic / paper bags. If you're in Thailand, Talad Rodfai and Chatuchak have some great deals on packaging too.
Start packing your products early (Thanks Ben, for this tip!) – you don't want to have a situation where you end up going to your event still packing.

Transport


Transporting your goods comes in two stages – From the Printer to You, and From You to the Booth / Shop.

How are you going to get your goods from the printer to wherever you need it? Most of us have two options: We collect the books from the printers' ourselves, or we pay a delivery fee and the printers send the books / products to our provided address.

Do keep these points in mind though:

If you're collecting your products yourself –

Arrange your own transport
Prepare carriers – most printers just put your products in bags or boxes. The IKEA blue carrier bag or market trolleys are both fine.

If you'd like the printer to deliver your products –

Check if you're eligible for delivery first – some printers only deliver if the amount you print exceeds a certain number, some printers don't deliver non-books
Check if the delivery price falls within your budget – just ask the printer, or find the difference between quotes with and without the delivery option.

Many creators I know have roller luggage handy (about medium-sized) to store their goods and deco – it's a pretty handy tool if you're talking about having to lug a good lot of items for a couple of days.

Note: Some printers give you the option of delivering straight to your event – I would advise against this option if it's your first job / you have not worked with this printer before. The costs will go up and there won't be time for you to check product quality before you put them up for sale. Also, you don't really want to lug 200 copies around, it's not fun and there's no guarantee that you'll be selling all of them in one event.

And that marks the end of my Printing for Indie Creators post series! I hope you've managed to find some pointers for your own projects.

​

Stay tuned for the printable accompanying these posts.
Powered by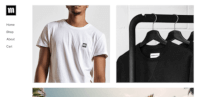 Create your own unique website with customizable templates.