Last month, I wrote about

getting into events for indie creators

. The post covered pointers on how to get into conventions / festivals, and how to prepare your booths for the days you'll be at the events.

This post will give a few tips on surviving behind the booth, especially if this is your first event.

Rule number one when it comes to being a booth owner at a festival / convention: Event personnel are also usually volunteers or very frazzled full-timers who barely have time to sit down, so here are a few fundamentals to get you through the event without having to call for help:

BE CLEAR ABOUT HOW MANY BOOTH PASSES YOU CAN HAVE / YOU NEED


Confirm the number of people who will be able to man your booth while you're registering. If it's not possible to get more than one or two extra passes, make arrangements so that you won't clog up the registration desks with your requests on the day itself. It'll be a crazy day for the event staff, don't make it crazier for them.

MAKE YOUR TRANSACTIONS EASY


The greatest factors in determining product price during my first time was follows:

Cost of Production
Number of Contributors
Market Rate (ask other booth owners about their price ranges – especially if you're a first-timer)
Whole numbers – This is important because NO ONE LIKES COINS (or complicated calculations), especially if you're busy at your booth.

With your price settled, these are also major fundamentals to look out for:

Product stock list
Float money ($2, $5, $10) for change
Product signage
Booth decorations

KNOW WHERE THE ADMINISTRATION BOOTH IS


It's a good idea to visit the event site the day before or earlier to know where to head to for booth registration (and to collect your deposit). Again, this is to save yourself time and headache, especially when during the event – when it's crowded and claustrophobic.

PACK FOOD. ENOUGH FOR AN ARMY (ISH).


One of the first things I learnt during my first boothing experience was that no one was going to serve you lunch, and that the food stand is not as accessible as you think it is. And while cookies are delicious, there are only so many that can last you the entire day.

Personal tip: Pack dried foods / foods that can stay in an airtight container for a day or so – cut fruits which have been soaked in salt water, crackers and canned tuna, buns, onigiri etc… (I highly recommend good onigiri. Hehehe.) – and lots of water (1.5l at least).

MAKE FRIENDS WITH BOOTH NEIGHBOURS


This will help you a ton. If you need a quick run to the bathroom and there's no one else to look after your booth for you – your neighbour can be there to help. It'll also help you pass the time during "slower" periods. The ultimate plus point though, is that once you're friends with your booth neighbours, your creative circle gets that much bigger.

ENJOY YOURSELF


At the end of the day, these creative events are organized not just for the enjoyment of the event visitors, but also for creators to meet one another and have fun. So yes, price your goods right, pay your booth rent, and hope to cover costs – but also remember that at the root of it, you create because you love to.

​

Your first event will not be your be all and end all of your creative career, so embrace the experience and enjoy yourself.
Powered by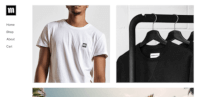 Create your own unique website with customizable templates.