I have a confession to make – I think about writing more than actually doing the act itself. For the longest time, my worst habit was to write as little as I can get away with and hope for the best – only because I was not in the groove. Of course, this proved to be incredibly unsustainable if I wanted to produce work on a regular-enough basis so that there's something to put out in the world.

This meant times where you had to buckle down – something I believe even the best of us have inertia against. Therefore, instead of forcing the words out after a few hours of staring at a blank screen, here are a few things I've been doing to keep at writing, or getting back into the groove, even on the dry days:

CONSUME

Read to reacquaint yourself with your love of the written word and turns of phrase.
Listen to good fiction podcasts for dialogue and descriptions.
Watch good films and TV serials for inspiration.

To paraphrase Stephen King, to not read is to not write. We can only discern what's "good" or what speaks to us if we consume the media we like to create. In our current circumstances, good stories are not confined to the written medium, so look out for stories you can relate to or are interested in. Who knows? Maybe you'll pick something up.

P/S – This is also useful in giving you some pointers on what to avoid as well.

HACK YOUR IDEA BANK

Remember those ideas you had over the course of the last few years? Did you manage to write them down? That's your idea bank.

I find it really useful to keep my notebook / journal of previous story ideas in the event of days where story ideas don't flow. Even if you don't go with any of the ideas you've written down in the past, it's also quite a great exercise to flex some creative muscles and see if they get triggered reading your past thoughts.

GET HELP

There are two main ways I do this – collaboration and / or working side-by-side with other creators, which gives you that slight pressure of keeping up with your end of the project.

The other way is what I call the Charsiew Space Tactic. A good friend of ours, Ben (a.k.a. the creator of the Charsiew Space universe), told this to one of our friends who kept asking, "How do you manage to put out so much stuff with a full time job?"

His answer was, "Apply for a booth at the next indie festival and ask your sourced printer about the last date you'll have to send you files over or else you'll have nothing to sell to make your booth costs back during the event."

I'm not saying that this is one of the best ways to get yourself to work, but I'm not saying that it doesn't work as well. (Shhh…)

FINISHED, NOT PERFECT

I feel this is probably the most important pointer I have both for other creators and with myself. Since I started participating in the National Novel Writing Month (Nanowrimo) programme, I've learnt the value of having finished, instead of perfect work. We know of people who speak about wanting to put work out but never do in fear of criticism or that it's not "perfect" enough.

A blank page is more difficult to edit than a "crappy" piece of work – and I feel that having this in mind while I finish the last, painstakingly-written line for the day makes my writing session feel more productive. I can always go back to a piece for more edits. I can't really do much with a blank piece.

JUST WRITE ANYTHING

Anything.

Fan fiction, short lines, dialogue, chapter plans, story plans, just so you can get your muscle memory of the act of writing back.

And you may be surprised with what you find during this period so why not?
​
So as I leave all of you with this post, I hope these pointers helped in some way. I am, no doubt, still on this journey. So I'd also like to hear from all of you – what else would you recommend to boost your creative motivation? Leave it in the comments =).

Powered by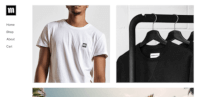 Create your own unique website with customizable templates.