Cutting to the chase - here are a couple of launches that I'll be at in the coming weeks! My story, "Junk Mail", was chosen for Best New Singaporean Short Stories Volume III, and speaks about a perspective from an ex-convict. And Pulp Toast / Roti Bakar #3 features stories about the non-chosen ones - the people who stand next to the superheroes.

Pulp Toast / Roti Bakar Issue #3: (Not) The Chosen One Launch at Singapore Writers Festival 2017

Date:

6 NOV 2017, MONDAY

Time:

7PM to 8PM

Venue:

The Living Room, The Arts House

​We spend our lives chasing, looking up to, and wanting to be the heroes or heroines of the world. The chosen ones, if you'd prefer. As a result, we don't hear the stories from the sidelines, maybe even missing out on something more interesting and human. This issue of Pulp Toast looks past the faces on the posters.

Find out about the darker realities covered up by people we revere, or watch as someone's hope of being the chosen one be snatched away every time he gets that much closer. What about the unsung heroes? Dive in and learn about their story – told through the eyes of the one they attempted to rescue, or through the eyes of those they hand their legacy over.

Regardless, we all agree that being unchosen may not be the worst thing in the universe. Especially if that means you'll be the only one with a full stomach when everyone's running for their lives before lunch.

Join us as our core team talks to the people society has put aside with guest authors Wayne Ree (Tales of a Tiny Room, Global Beards) and D. M. Jewelle (KL Noir: Yellow, Little Basket) and guest artist Ziqun A. K. (Wizard Garden). We hope you'll enjoy these stories as we've enjoyed writing them.

And thank you for choosing us. Find out more about the event

here

.

###

Best New Singaporean Short Stories Volume Three Launch @ Kinokuniya

Date:

28 OCT 2017, SATURDAY

Time:

2:30PM to 3:30PM

Venue:

Kinokuniya @ Ngee Ann City

And the third volume is out! Join our Series Editor, Jason Erik Lundberg, and Guest Editor, Cyril Wong, as they speak about the collection and their processes for this volume. This launch will also feature readings by Clara Chow (This is a Website), Melissa De Silva ("Others" is not a Race), and Noraliah Norasid (The Gatekeeper).

See you there! You can find out more about the event

here

.
Powered by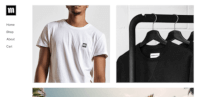 Create your own unique website with customizable templates.