This is, what I'd call, the result of a group of hungry fat kids having disposable income, and being surrounded by places with delicious food.

​

After a quick trip over my birthday weekend, I met the Tiger and his parents to celebrate three birthdays - mine, and the Tiger's parents's. Thanks to the photos of our food, the rest of the Valkyrie Knights were more determined to head to Penang before the year ended.


So our Penang Food Trip was decided - and here are, possibly, our Top Five bites for Penang 2017-8. In no particular order:


Youtiao

To quote the Tiger, this was the youtiao which endeared me to Penang.

I won't go that much into taste and texture, but you'll have to try it for yourself. Don't worry about it, we've tested it and the fritters stay crispy without retaining their oil even after 3-5 hours post-sale. A great feat considering how simple their set up really is.

Do note that the store owners don't like it when people head to their stall to take photographs though, so keep your phones in your pockets!

Damage expected: RM1.50 per youtiao

Cintra Street You Tiao is located on 76 Cintra Street, Penang. They are open 12PM to 7PM daily.

Mee Mamak & Nasi Kandar

Penang was one of those places where Mamak culture started - a culture very prominent in Malaysia and among the Indian Muslims residing in the area. So food like Mee Mamak (fried noodles) and Nasi Kandar (mixed rice) are staples when you visit Penang.

Mee Mamak is often the first foods the Tiger and I go for when we head to Penang - fried noodles with squid, bean sprouts, tofu, potatoes, and greens, fried with amazing wok hei and balanced, spiced gravy. You can pretty much find Mee Mamak in most places, but our favourites are in Jalan Burma - Swee Kong Coffee Shop (my favourite), and Seng Lee Coffee Shop.

Likewise, Nasi Kandar can be found almost everywhere in Georgetown, but our favourite was definitely the popular Line Clear. We only had Roti Canai there because we ended up at the place NEXT to Line Clear (Restoran Yasmeen) for Nasi Kandar instead - it was still good though!

But what really drew me to Line Clear and Restoran Yasmeen was a combination of the warmth of good, home-cooked food, and their kuah campur, a mixture of all their curries and gravies that turned into an elixir bringing your plate of rice or roti to the next level. And if anything, just your rice and this mixed sauce is enough to send your appetite into overdrive.

So yes, don't say I bo jio.

Damage expected: For Mee Mamak - RM5-7, For Nasi Kandar - RM5-9

Swee Kong Coffee Shop is located on 232 Jalan Burma, 10350 Georgetown (Opposite Balai Polis Pulau Tikus). They're open 5:30AM to 5PM but note that the Mee Mamak stall owner will most likely only arrive at 11-12 NOON.

FOR SCIENCE, you can try another Mee Mamak stall down the road here - Seng Lee Coffee Shop, 280 Jalan Burma. They are open 8:30AM to 6PM from Tuesdays to Sundays. LIkewise, the Mee Mamak stall owner will most likely only arrive at 11-12 NOON.

Line Clear Nasi Kandar is located beside 161 & 177 Penang Road, 10000 Georgetown and they are open 24/7. Just make sure it's the correct place - you need to walk IN next to the inflatable balloon waving visitors into Line Clear.

Moody Cow Cheesecakes

WARNING: This is not for the lactose intolerant or light eaters.

The first time i tried cakes from this place was when the Tiger brought them to Singapore after a trip in Penang. After I tried it for the second time, I began to realize why each slice cost at least in the high 30s.

Compact, good-quality cream and cheese make up a bulk of their cheesecakes, and their tall cakes with various flavours (Durian, Salted Egg Yolk, Oreo, Chempedak etc…) were as big as two slices of usual cafe cakes.

Great for the sweet tooth, but sharing is mandatory. Do check them and their savoury dishes out as well.

Damage expected: RM38-45 per slice.

Moody Cow is located at 170 Transfer Road, 10050, Georgetown. They open from 12PM to 12AM, and are closed on Mondays.

Beef Noodles

Note: sorry no pic - we were so excited we didn't take any photos. LOL.

They served the noodles to us in a bowl that was the average size of a serving rice bowl.

And that was considered a small bowl.

The first time I tried these beef noodles, their soup was dark and it was located at a smaller coffee shop. This time, the soup has now gone clear, but don't be deceived - all the flavour remains. Seeing how much we ate that morning, I was glad for our decision to go beef and soup only.

Despite that, it was enough to satisfy us, both our physical hunger and our tastebuds.

P/S - Wash it all down with Teh Ais (Iced Tea) or White Coffee - you won't be disappointed!

Damage expected: RM5-10

ST Loo Beef Noodles / OO White Coffee Cafe is located on 262 & 264 Lebuh Carnarvon, 10100 Georgetown, next to Teoh's Clan Ancestry House. They're open from 10AM to 9:30PM and are closed on Wednesdays.

Char Kway Teow / Assam Laksa

And there is no Penang trip complete without a meal of Char Kway Teow and Assam Laksa.

I'm not a fan of a stickier, gravy-heavy char kway teow that seemed to be very popular in many other char kway teow stalls in Penang. However, in a bid to find halal char kway teow, we found Bee Hwa Cafe, just down the road and a right turn from Cititel (our hotel). Apart from char kway teow, they also sold curry mee and noodle soups, all halal.

I took mine without chili, but the noodles held their own - thinner rice noodles with crunchy bean sprouts, fresh prawn, and wok hei enough to retain the flavour long after your plate is empty.

After which, we went to Joo Hooi Cafe, which is further down the road to Jalan Penang. Lyn and Raven had their fill of Assam Laksa, while the rest of us had Chendol and Ice Kacang. While I'm not a fan of Assam Laksa, both Lyn and Raven finished their Laksa and left the place utterly satisfied.

I trust their tastebuds and judgement on food any day.

Damage expected: RM4-7

Bee Hwa Cafe is located at 10 Lebuh Dickens, Georgetown. They open from 7AM to 5:30PM on weekdays, 7AM to 3:30PM on Saturdays, and are closed on Sundays and Public Holidays.

Joo Hooi Cafe is located at 475 Jalan Penang, 10050 Georgetown. They open from 11:30AM to 5PM.

Of course, these are only my own recommendations. Regardless, I hope you'll enjoy these foods when you're on your own trips to Penang. If anything, there will always be good food in Penang. You can find our photos of this 32-hour whirlwind of a trip on Instagram with the hashtag #feedmenang.

​
Powered by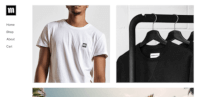 Create your own unique website with customizable templates.