​A couple of days back, I woke up to a line which got me thinking. That line in question:


"Trade has nothing to do with diversity."


Needless to say, this phrase probably came from a place of ignorance and / or hate. Regardless of the intentions of its origins, it got me thinking about the human condition in objective, or logical actions like trade, law, and any of their affiliates.

Many a times, we make a good amount of decisions based on our logical sphere. What many of us don't know or admit is that there will always be a level of bias. Actions cannot be 100% logical because they're still made by humans. Human psychology has not reached a level of disregarding subconscious, bias, and emotion. So what is the importance of diversity in trade (or a facet of life which requires logical procedure and solutions)?
​
However, I'm not brilliant at economics, so I'll use an example I'm familiar with:

The Settlers of Catan


Brief summary of the game – Catan is based on a world where one particular kingdom / state does not have all the resources they need. To win the game, you need to develop your kingdom and survive each turn until someone gets 10 victory points.

And because one didn't have all the resources they needed, there were three ways of going about winning this game – hoarding & praying for something good to happen to you, conquest, or trade.

The first option is too circumstantial.

The second option takes up too many resources. Also, this doesn't guarantee good resources (and there's no option of doing so in Catan).

So trade still makes the most sense.

The Rules of Trade

The first rule of trade is simple – You get what you need / want by trading something the other party doesn't have, for something you have and they want.

The second (unwritten) rule of trade is this – people need to like you. At least on some fundamental level.

You may present the most convincing argument and deal to the person you'd like / have no choice but to trade with. Given how globalized our world is now, you'd be one of a few (at least) choices.

To paraphrase Keira Knightley as Joan Clarke in 'The Imitation Game', in a situation where you are just one of many choices, you "don't have the luxury of being an arse".

Businesses are built on resources, but more importantly, they are built on relationships.

Diversity in Trade

There is justice in the world. There will come a point of time when you will need materials or necessities from the other side of the globe. Given how globalized and specialized the world is now, there are not a lot of options outside of import-export. The Silk Road proved that relationships, needs, and diversity were essential to long-standing trade. Current trade routes done without duress prove that.

If anything, understanding needs, wants, and an authentic understanding of the cultures you're trading with is essential to trade. Even within the same town, the person on the other side of the cash register will be different from you.

And yes, that's why contracts and trade agreements are drawn up. But let me bring this up again – have trade agreements signed under threat or duress ever lasted long or well?

Example – You have a surplus of sheep and ore, but you need wheat because you need to develop your Settlement into a City. Now, you know that Player B has a surplus of wheat, but not as much ore or sheep as you. So basic economics, right?

​However, you have been cutting into their roads with yours, and on top of that, accused Player B of hoarding Development Cards because they are a "stereotype" you never bothered to learn about. What is stopping Player B only giving you your needed two wheat cards without draining you of everything? After all, you came to their lands, laid all your roads so theirs have nowhere to go, and then accused them of something without listening or understanding them properly?

The Complexity of Circumstance and the Strength of Diversity

Before I leave this discussion, here are some perspectives to think about as well.

​On top of diversity, circumstances cannot be ignored when decisions are made. This is personified by the dice in Catan – there's always a 1 in 12 chance (basic odds) that a player can call a robber to the table. And that's when the biggest question starts:

"Do I place the robber on a person who has a resource I need? Or do I place the robber on a person who has been a crap person this entire game?"


Sure. At the start of the game, everyone goes in going, "Yeah, no hard feelings, it's business." However, almost every game I've played gets increasingly intense when someone is close to winning. That's when the alliances kick in, that's when understanding and the strength of relationships show – who can you count on to pull you up from just the two victory points you started with?

So perhaps what I'm trying to say is this – diversity is essential in trade because it provides strength to both sides of the table, it gives you options, it makes you richer both in profits and in knowledge.
​
And yes, it is very simplistic to use my above examples, but the truth of the matter still remains – diversity makes us all richer, but it cannot come or help you when it's constantly stereotyped, and not respected in the first place.

A sage once said, "When I was younger, I wanted friends who were smart. Now that I'm older, I want to be around people who are kind."
Powered by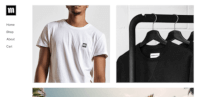 Create your own unique website with customizable templates.