Since the barrage of Convention weekends, I've been sick on-and-off until recently. With that, I've stopped posting as regularly as I had. Instead, I decided to take this time to zero in on my focusses when I first started this new site – Urban Speculative Fiction across mediums and Arts Management.

I hit my final year in my 20s today.

And one of my friends asked, "Aren't you afraid of turning 30?"

My reply was, "I'm not worried about how old I am. I'm worried about wasting time."

Earlier this year, I told myself that I've found a balance between stability and aspiration which I could handle. As the year comes to an end, I find myself with a better focus and possibly, a better pattern to ensure that I can continue practicing my craft but also post, manage, and give back to the community I appreciate.

Site Focus – Stories and Planners

In a couple of terms: Urban stories and creative planning.

I've been writing for a while now, short stories, attempts at novels, flash fiction, the lot. And there have been many times I came close to throwing in the towel because of a variety of reasons. It was not until the last couple of years when I felt a little better doing what I always wanted to do, and I cannot attribute it to a singular change.

I can, however, say that focus and specialization played a huge part in reorganizing the chaos that I was feeling (sometimes even until now – I have this tendency to pack myself so tight, the slightest tip of the scale can send me into an explosive frenzy).

So this site will soon become an area for my dribbles, thoughts, and tips as I practice writing my Urban / Spec Fic stories (for any medium) and any Arts Management aspects that could help creatives get organized.

What you can expect:

Most of this site will stay the same, but starting next year, there will be content on Tuesdays, Thursdays (as and when), and every other Friday.

TUESDAYS – STORIES

Where my dribbles for writing challenges, snippets of projects I'm involved in, novel previews, and reviews will have their spot, mostly hovering in the space of urban / speculative fiction.

THURSDAYS – THOUGHTS

Posts will come up here as and when a thought sticks long enough to give birth to a post. Or when I travel. LOL.

FRIDAYS – PLANNERD

I won't be doing #hobonichi365 next year, but this will still be the spot where I talk about other planners, journals, and tips on Arts Management.

I don't know if I will be posting as regularly as I'd like for the rest of this year, but I know that I'll be staying here for a bit. Regardless, I am grateful for your support, and I look forward to seeing all of you during my next post.
Powered by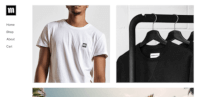 Create your own unique website with customizable templates.